Töihin Santanderille
Mitä jos tulisit töihin meille?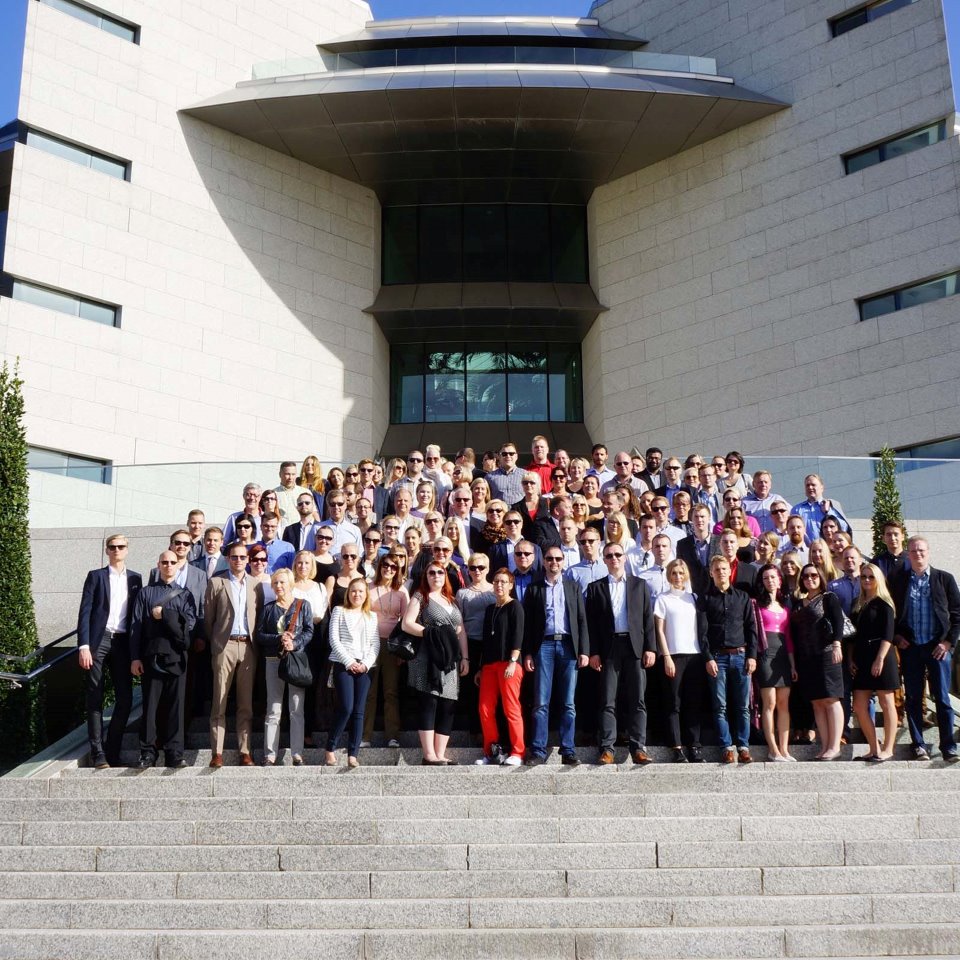 Nordic Senior HR Business Partner

Nordic Senior HR Business Partner – lokation Danmark/Hvidovre

Santander Consumer Bank er en del af Europas største finanskoncern og er i gang med en rivende udvikling på det nordiske marked. Vi tilbyder en stilling i et spændende og udfordrende miljø med gode og dygtige kolleger. Der er tale om et job, der giver dig god mulighed for faglig og personlig udvikling i en dynamisk virksomhed.
Din rolle
I rollen som Senior HR Business Partner indgår du i et engageret og passioneret nordisk HR-team bestående af 21 personer. Din vigtigste rolle bliver at støtte og supportere en af organisationens funktioner med HR fra A-Z - med særlig fokus på god ledelse og høj trivsel. Udover den funktion du supporterer, vil du også have et par nordiske ansvarsområder, som varierer alt efter vores HR strategi og mål. Indenfor disse områder forventes det, at du har lyst og evner til selvstændigt at sætte retning, udvikle og drive disse. Rollen er bred og du skal derfor evne både det strategiske og administrative.

Da vi arbejder nordisk må lidt rejseaktivitet forventes.

Primære ansvarsområder:

Arbejde bredt med hele HR-paletten både på strategisk, taktisk og operationelt niveau.
Ansvarlig for en af bankens funktioner med medarbejdere i alle nordiske lande.
Coache og supportere ledere i HR relaterede spørgsmål, herunder bl.a. arbejdsret, lønregulering, strategisk personaleplanlægning, rekruttering og trivsel.
Proaktivt drive relevante forbedringstiltag og forandringer i funktionen.
Selvstændig drive et eller flere tværorganiske nordiske ansvarsområder, fx performance management, proces udvikling, kultur e.lign.
Capital Risk/IRB Analyst

Do you want to make impact onto capital strength of the bank?

We are looking for an experienced risk or data analyst with programming skills and data understanding who is eager to learn credit risk and capital regulations. Or maybe you worked with credit risk, capital, IFRS9 or IRB before? That is even better! The role can be summarized as a combination of capital regulations, credit risk analysis and data, all that on the Nordic level. We offer exciting professional challenges in safe surroundings with pleasant colleagues and an inclusive and international environment.

The Capital Risk team is responsible for making sure the bank has enough capital to cover the risks the bank is running, with credit risk in focus. For that, we set risk appetite limits based on different kinds of analysis and we monitor and further develop the IRB system. IRB system is a combination of Internal Rating-Based models for Probability of default and Loss given default, IT infrastructure around how the models are implemented, and reporting and governance processes around. There exists many rules and regulations from both EU, ECB, EBA and the Norwegian FSA describing how we should develop and use the IRB system. You will become an expert in those regulations, and you will be in the middle of the bank's effort to optimize capital requirements and improve the data which is used for developing credit risk models and for calculating the portfolios' credit risk.

One of your main deliveries will be a so-called IRB report which is a set of different kinds of KPIs and analysis of credit risk performance of IRB portfolios. This risk analysis is very data intensive. You will need to extract the data for the report by using SAS/SQL, put the report together and analyze the numbers and the trends so that a high picture of the risks can be reported further to the senior management, the Board of Directors and the FSA.

Santander Consumer Bank is part of Banco Santander, one of the biggest banks in the world which is supervised by the ECB. This comes with an advantage that there is a number of best practice risk methodologies that we get access to, and exciting challenges that we stand in front of that are perhaps unique to us as a bank supervised by both the Norwegian FSA and by ECB.

The bank currently uses IRB approach for three of its portfolios and will be using for several more. Rolling out further portfolios into IRB is a several years long project that requires coordination between stakeholders and a regular impact assessment of the changes onto the risk parameters and ultimately capital requirements that you will be highly involved into. You will be working closely with the teams who develop credit risk models, validate the models and implement them in the systems. You will also have a close collaboration with the team who maintains the data sources as well as with Financial Management, Financial Control and the headquarters in Madrid.

More about the team:

Capital Risk is a central function within the bank that consists of five people and covers all four Nordic countries the bank operates in. Besides working with IRB, the team is responsible for reporting and monitoring tools to analyze and mitigate capital risk, participates in Internal Capital Adequacy Assessment Process (ICAAP) and capital planning and forecasting as an oversight function. In addition, Capital Risk plays a key role in the bank's structured finance/ABS program (car loan securitizations), which are transactions that provide capital relief for the parent company. The team conducts analysis of the risk parameters and controls the transactions throughout their lifetime to ensure that they still satisfy requirements to provide capital relief. Furthermore, the team is responsible for defining model risk framework, monitoring and controlling of model risk.

Main deliveries that you will be involved in:

Ensure the bank is compliant with current capital and IRB regulations at all times by monitoring and regular reporting of risk parameters and risk weighted assets as measured by the IRB Rating system, identify trends and potential issues based on analysis
Perform impact analysis of IRB parameter changes onto capital requirements and ultimately capital ratios
Yearly self-assessment of the IRB system if we use it according to all the requirements
Support with coordination and materials in internal and external (FSA) audits
Support capital planning and analyze its sensitivity to risk factors
Assist in setting risk appetite for capital ratios and monitor ratios against risk appetite
Support in maintaining policies and other governance documents used in the capital risk area
Participate in key strategic projects to improve data used for capital
Kundeservicemedarbetare

Har du ett starkt intresse för kundrelationer och trivs med kundkontakt? Vill du arbeta i ett team som har gemensamma målsättningar och där vi möter framgångar och motgångar tillsammans?

I rollen som kundservicemedarbetare arbetar du med inkommande samtal och mejl från bankens både befintliga och potentiella kunder. Din arbetsuppgift är att hitta rätt lösning till kunden och du administrerar sedan ärendena i affärssystemet. Du ingår i ett team med en närvarande teamledare som motiverar dig och ger dig stöd i arbetet. Du erbjuds goda utvecklingsmöjligheter.

Arbetsuppgifter

Som kundservicemedarbetare kommer du;

Via telefon ta emot samtal från både nya och befintliga kunder för frågor kring våra lån och krediter

Vid inkommande samtal erbjuda både nya och befintliga kunder tilläggstjänster och informera om hela bankens produktportfölj

För att trivas i rollen är du försäljnings- och resultatinriktad och du tycker om att supportera och hjälpa andra i ditt arbete. Du är självgående och har lätt för att driva ditt arbete framåt och gör det med hög kvalité. Då rollen innebär uteslutande både intern och extern kontakt är du social och har god kommunikativ förmåga. För att lyckas i rollen är du målinriktad och motiveras av att prestera högt.

Kvalifikationer

Vi söker dig som

Troligtvis har ett eller ett par års erfarenhet från tjänster inom kundservice/försäljning/butiksarbete/restaurang eller liknande.

Mycket meriterande är om du arbetat med försäljning/kundtjänst via telefon alternativt arbetat med fordonsfinansiering och sparkonton.

Som person drivs du av att arbeta efter mål och uppföljning och triggas av utmaningar i ditt arbete.

Du talar och skriver obehindrat på såväl svenska som engelska.

Du har systemvana så har lätt för att sätta dig in i nya affärssystem.

ÖVRIG INFORMATION

Tjänsten är på heltid och placering är på kontoret i Solna nära T-bana Solna Strand.

Om ovanstående passar in på dig så tveka inte med att söka tjänsten snarast. Vi intervjuar fortlöpande.

Frågor? Mitra Imhoof - mitra.imhoof@santanderconsumer.se - +46 761362231
Sales Consultant Leasing

Sales Consultant Leasing, Santander Consumer Bank

Santander Consumer Bank er en del af Europas største finanskoncern og er i gang med en rivende udvikling på det danske marked. Vi tilbyder en stilling i et spændende og udfordrende miljø med gode og dygtige kolleger. Der er tale om et job, der giver dig god mulighed for faglig og personlig udvikling i en dynamisk virksomhed.

Jobbet

Som Sales Consultant Leasing vil du blive en del af et team på 12 kollegaer. Du vil sammen med teamet være ansvarlig for håndtering af både back office opgaver samt yde en premium kundeservice til vores kunder og forhandlere.

Dine opgaver bliver blandt andet:

Daglig kontakt med forhandlere og kunder via telefon og e-mail.
Håndtering og opfølgning på igangværende leasingaftaler med kunder og leverandører.
Håndtering af diverse aftaleændringer, debitorskifte o.lign.
Udarbejdelse af skadesrapporter på udløbne leasingaftaler.
Diverse ad-hoc opgaver og kontroller.
Evt. validering og aktivering af leasingaftaler.

Dine kvalifikationer

Servicemindet og kommunikerer positivt og professionelt med kunder, forhandlere og øvrige samarbejdspartnere.

Gerne kendskab til både operationelle og finansielle leasingaftaler samt erfaring med fuld og forholdsmæssig registreringsafgift.

Du er drevet af at give en god kundeservice og holde deadlines.

Du er en teamplayer og deltager aktivt i, at både teamet og du selv når i mål.
Du er proaktiv og er god til at se mulige forbedringer i processer.

Hvad tilbyder vi?

Vi tilbyder et spændende job i en stor og voksende finansvirksomhed med ordnede arbejdsforhold, hvor din indsats har stor betydning for virksomhedens resultat. Ydermere tilbydes du pensionsordning, sundhedssikring og et godt introduktionsforløb.

Er du interesseret?

Har du den rette profil, vilje og entusiasme, bedes du uploade din skriftlige ansøgning med relevant CV.

Har du spørgsmål til stillingen, kan du kontakte Brian Miltoft (brian.miltoft@santanderconsumer.dk) – eller på telefon 3133 1023.

Jobbet ønskes besat hurtigst muligt, så vi opfordrer derfor til, at du sender din ansøgning snarest muligt. Alle ansøgninger behandles fortroligt, og vi holder samtaler løbende.
AML Manager

AML Manager in AML Office

Would you like to be part of the journey towards a better AML/CTF program in the Santander?

We are looking for an AML Manager in the AML Office management team, who is eager to coordinate and lead initiatives on a mission to enhance the AML Program. The role will report directly to the Chief AML Officer and have flexibility in shaping the role and responsibilities.

Your tasks:

As an AML Manager you are given the opportunity to play a valuable role in creating an effective and customer centric AML Program with following responsibilities:

Coordinating and leading end-to-end AML initiatives
Interacting with various stakeholder across the Bank by managing expectations and securing buy-in and understanding
Managing risk and dependencies with high quality
Supporting the Chief AML Officer on the AML/CTF Strategy planning
Development and reporting of management information

Skills:

Good communication, presentation, and stakeholder engagement / management skills
Strong ownership, facilitation, and problem-solving skills
Experience from project planning
Strategic mindset with operational and customer centric mindset
Structured and self-driven
Goal-oriented with strong execution and completion skills
Proactive and curious

Qualifications and experience:

University degree within relevant field
Experience from the financial industry
Minimum 3 years' experience from AML/CTF Program development
Experience from working cross-country (distance management)
Fluent in written and verbal English.
Proficiency in one of the Nordic languages.

Are you interested?

If you have the right profile, will and enthusiasm, please send your application and CV via the link.

Do you have the right profile, determination and enthusiasm, please send your application and CV via the

You are welcome to contact Cicilie Thorkelsen on tel. +47 90994683, if you have any questions about the position. The job is to be filled as soon as possible, hence we encourage you to send your application as soon as possible.
Lead Country Execution Finland

The Collection manager provides thought leadership and strategic direction to how the local execution team perform their task and solve the customer requests. The position is key to serve the customers and vendors in an efficient and customer friendly way.

The role is responsible to drive both the efficiency, quality and professionality in the execution team. He/she will set the strategy on how the local team will execute and respond to Nordic Collection Management, Vendors and Customers. He/she will manage the Team who are responsible for specialist and back-office tasks and service requests coming directly from the end-customers or the Vendors

He/she will have a strategic, process and people management focus. He/she will gather data and information to help drive the improvement agenda and find new and smarter ways of working. The improvement initiatives will play a crucial part into the efficiency of the Collections function. He/she will together with Country Execution Management initiate and drive processes improvement around IT systems and increase cross-boarder collaboration in the workforce.

As a member of Country Executions Management Team he/she will represent the country layer of his team and also Country Execution in a broader One Bank view. The position will work closely with the Head of Late Collections and Head of Massive Collections. The Execution teams are dependent up on the Late and Massive team executing their strategy as many of the customer interactions between the three departments are inter-related. Further, the position must manage internal and external relationships, while driving Execution excellence in the country.

Strategic Design & Focus

Determine the team strategy and SLAs for approaching customer requests, vendors, Legal proceedings and internal customer support and vendor managers while remaining lean and efficient
Ensure the Execution teams execute the strategy from a local and bank perspective

Executional Excellence

Establish best practices on a local level and share with Country Execution Management.
Contribute to when feasible, design and standardize processes across all geographies
Identify and specify required system functionality
Set and identify KPIs to drive productivity and motivate for executional excellence
Leverage predictive analytics from Analytics to develop and drive Next Best Action recommendations

Cross – Function Collaboration

Actively collaborate with the Lead of Country Execution in the other Nordic Countries, Head of Re-Marketing, Massive and Late to ensure that all teams are aligned in terms of priorities and processes, through Execution Management layer.

People Management

Manage and guide the local team
Leverage the teams local expertise when approaching and initiating new improvements initiatives
Enable the team to develop their capabilities, and provide guidance in conflicts within the team
Management and development of the team, including identifying and building the right competencies and skills, career development, performance management, coaching and employee engagement

Operations responsibilities

Respond to customer inquiries
Provide internal stakeholders with an expert opinion on Collection-related matters
Manage assignments to Massive Collection partners and inquiries from their agents (when applicable)
Manage repossession assignments and respond to inquiries from repossession agentsManage loan terminations and assignments to Debt Collection Agencies, and respond to inquiries from DCAs
Manage debt settlement / debt restructuring applications and perform necessary adjustments in collaboration with DCAs (when applicable)
Manage death estates in collaboration with DCAs (when applicable)
Avoin hakemus

Voit jättää meille avoimen hakemuksen. Olemme sinuun yhteydessä, mikäli meillä aukeaa osaamistasi vastaava tehtävä.
Olemme kuin perheyritys. Meillä on ketterä organisaatio, jossa päätöksiä tehdään ripeästi ja eletään tilanteen mukaan. Matala hierarkia varmistaa sen, että jokaisella on mahdollisuus saada äänensä kuuluviin ja apua tarvittaessa. Joustavassa organisaatiossamme tehtävät ovat monipuolisia, ja sisäinen liikkuvuus on vilkasta.

Uudelle työntekijälle nimetään aina perehdyttäjä, joka auttaa häntä pääsemään nopeasti sisään Santanderin maailmaan. Järjestämme työntekijöille mahdollisuuksia tutustua myös toisten osastojen tehtäviin. Panostamme jatkuvasti esimiestyön kehittämiseen. Vaikka tavoitteet ovat kovat, toimistossamme nauru raikaa ja ilmapiiri on kannustava. Lue lisää meistä.

Tervetuloa iloiseen joukkoomme!
​Lähetettyäsi meille hakemuksen, saat sähköpostiisi vahvistusviestin hakemuksen perille saapumisesta. Tarkistathan siis hakulomaketta täyttäessäsi, että sähköpostiosoitteesi on oikein. Olemme kaikkiin hakijoihin yhteydessä rekrytointiprosessin edetessä joko puhelimitse tai sähköpostitse.

Tehtävään sopivimmat hakijat kutsutaan haastatteluun yleensä kahden viikon sisällä hakuajan päättymisestä. Haastattelu kestää noin tunnin ja tehtävästä riippuen haastattelukierroksia voi olla useita. Haastattelun tarkoituksena on selvittää puolin ja toisin, kuinka osaaminen, kokemus ja toiveet kohtaavat. Yritykseemme voit tutustua kotisivuillamme. Vastaamme myös mielellämme haastattelun aikana kysymyksiisi niin yrityksestä kuin työtehtävistäkin.

Pyydämme hakijoilta haastattelussa suosittelijoiden tiedot ja luvan olla yhteydessä heihin. Toisinaan apuna käytetään myös soveltuvuusarviointia, joiden tekemisessä käytämme Helsingissä sijaitsevaa psykologitoimistoa. Haastattelussa sinulle kerrotaan tarkemmin rekrytointiprosessin etenemisestä.

Henkilötietolain (523/99) 10§ mukainen rekisteriseloste Santander Consumer Finance Oy:n työnhakijarekisterille ›