Töihin Santanderille
Mitä jos tulisit töihin meille?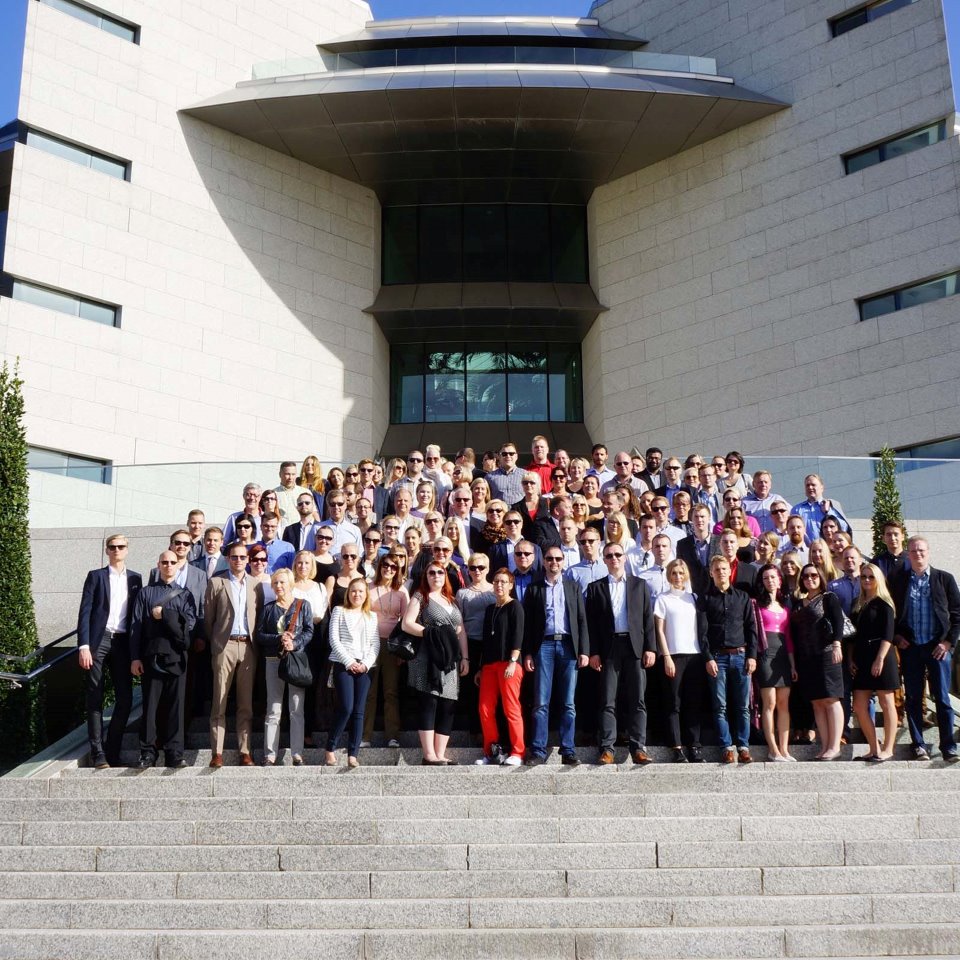 Reporting Specialist

We are looking for a ambitious member to the Financial Reporting team as part of the Financial Control function. The team is responsible for ensuring accurate and qualitative financial reports across the 4 units in the Nordics relating to Management- and Statutory reporting. This role is focused towards our Management Reporting area with responsibilities related to our Captive partner agreements and the delivery of accurate and timely reporting to internal and external stakeholders in accordance to defined reporting and data requirements. The role entails an eye for details and continuous improvements/automatization of processes in order to streamline and improve reporting processes.

As a Reporting Specialist you will have responsibilities for Management reports related to Actuals, Budget and Forecast covering Captive reporting per country/brand/product. The role entails a close cooperation with the Nordic Management Control team as well as the Commercial team in order to proactively implement and adhere to changes in reporting and data requirements to ensure high quality reporting. To be successful in the role you are a team player with high integrity and thrives in a fast pace environment that requires good communication skills with a variety of stakeholders within the Group.

Responsibilities:

Monthly reporting in MIS (Management Information System).
Responsibility for Captive reporting process, including the preparation and submission of required reports to internal and external stakeholders incl HQ.
Ensuring timely & accurate delivery of Captive reporting for the Nordics.
Drive consistency, simplification and digitalisation/automation of reporting processes.
Participate in Management Reporting related projects and adhere to reporting requirement implementation.
Coordinate with internal stakeholders to ensure accurate and timely collection of data for reporting purposes.
Entry level/Graduate career opportunity with one of Europe's leading Banks!

Would you like to start your career in one of Europe's largest financial institutions? Do you want to learn how we manage and control financial and non-financial risks?

Then join our Risk department in Santander Consumer Bank Nordics! We are over 110 professionals working across Norway, Sweden, Finland, and Denmark, and we are responsible for the Bank's risk matters, ranging from Credit Risk, Market & Capital Risk, Risk Infrastructure & Advanced Analytics to Non-Financial Risk and Enterprise Risk Management.

We offer an immersive 12-month assignment, where you will have a wide array of prospects, including:

Wide-ranging personal and professional development opportunities in various roles across the Risk organization, discovering several facets of Risk management
Comprehensive on-the-job training with exposure to an exciting work environment, where you can apply your knowledge in practice with the support of an experienced team
Build relationships that will influence your entire career
Be part of an international consumer finance business and a rewarding, international fast-paced work environment
Wide range of social and sports activities to be part of and have fun at work
Opportunity to transfer into a permanent role
Kundekonsulent - Disbursement Auto team

Bli en del av vårt engageret og inspirerende team hos Santander!
Hos Santander ser vi etter ekstraordinære mennesker som ikke bare er dyktige, men som også bringer noe eget til bordet. Vi søker deg med glimt i øyet, en god dose humor, en fremoverlent holdning og en dynamisk personlighet. Hvis du trives i et energisk miljø og har lyst til å gjøre en forskjell, er dette din mulighet til å skinne!

Vi er på jakt etter engasjerte og ambisiøse kundekonsulenter til vårt Disbursement Auto team. Som en ledende aktør innen finansiering av bil og fritidsprodukter, er vi opptatt av å bygge et team av unike profesjonelle som ønsker å bli en del av et lave skuldre - høyt under taket arbeidsmiljø. Sammen vil vi fortsette å styrke Santander sin posisjon som nummer 1 innen vår bransje, og du kan være med på reisen!

Ditt ansvarsområde:
Som en del av vårt Disbursement Auto team vil du ha en sentral rolle i å bistå våre kunder og samarbeidspartnere. Dine hovedoppgaver vil inkludere:

Nøyaktig kontroll av låne- og leasingdokumenter: Du vil være ansvarlig for å sikre at alle dokumenter er korrekte og i samsvar med våre retningslinjer
Sterk tallforståelse: Du vil analysere tall og data for å sikre at alt er i samsvar med våre krav og policy
Rask problemløsning: Du vil være en nøkkelperson i å løse utfordringer eller avvik i dokumentasjonen
Effektiv kommunikasjon: Du sjonglerer kommunikasjon både via epost og telefon med letthet for å avklare eventuelle spørsmål

Dine leveranser:

Vi søker deg som forstår kundens og forhandlerens behov samtidig som du sørger for at Santander er deres førstevalg for finansieringsforespørsler. Dine egenskaper inkluderer:

Bidra til å etablere en sikker portefølje: Din evne til å oppdage feil og sikre at tallene stemmer vil være avgjørende for vår suksess
Sikre rask gjennomgang: Din effektive tilnærming vil hjelpe oss med å holde prosessen flytende og effektiv
Klare kommunikasjonsevner: Din evne til å kommunisere klart og tydelig vil hjelpe teamet vårt med å løse utfordringer raskt

Ditt bidrag:

Med din entusiasme og en vennlig dose humor vil du:

Gjøre våre forhandlere enda mer fornøyde ved å tilby fantastisk service
Bidra til vårt høye servicenivå ved å håndtere forespørsler på en profesjonell og hyggelig måte
Vise fremragende muntlige og skriftlige kommunikasjonsevner, samt gode engelsk kunnskaper
Være en positiv kraft i vårt team og hjelpe oss med å spre glede og engasjement
Holde hodet kaldt i perioder med stor arbeidsmengde og tidspress
Se det som ditt eget ansvar å tilegne deg ny kunnskap samt engasjere deg i teamets utvikling
Være effektiv og ha et sunt konkurranseinstinkt samtidig som at du gjerne opptrer som en sparringspartner for dine kollegaer

Vi tilbyr:

Fast stilling i et solid internasjonalt selskap med svært gode resultater.
En bedriftskultur som er uformell, samtidig profesjonell og dynamisk. Det er korte beslutningslinjer og gode muligheter for påvirkning.

Et arbeidsmiljø som er godt med kunnskapsrike, engasjerte og hyggelige kollegaer som hver dag gir «det lille ekstra».

Arbeidstid: Dagtid (08.00-16.00)

Interessert?

For mer informasjon om stillingen, vennligst kontakt Line Alexandra Skaarberg-Herde, Team Leader BO & Disbursement Auto.
Nordic Head of HR Operations

We have already transformed 4 HR-operations into One, even though a few steps remain. We are looking for someone guiding us into the next leap, hereby how to advance on AI together with our brilliant colleagues worldwide, always with our people and key deliveries in sight.

As the Head of HR Operations, you will play a critical role in overseeing and enhancing the HR operations function of our organization. You will lead an experienced team of specialists within payroll, HR services, HR technology, Compensation & Benefits and HR governance.

You will be responsible for managing HR processes, policies, and programs that support our workforce while ensuring compliance with legal and regulatory requirements. This role requires strategic thinking, strong leadership skills, and the ability to drive HR initiatives that align with the company's overall business objectives.

Key Responsibilities:

Lead and mentor the HR team, providing guidance and support for their professional growth

Develop our HR Operations to be cost efficient and accurate. Hereby leading implementations of HR tech

Optimize the benefits of belonging to One Global HR Operating model

Secure our HR-operation is compliant to GDPR

Secure availability of data for decision making

Secure updated personnel handbooks and internal information for HR cycles

Secure that we are compliant to HR policies

Align and maintain our Compensation & Benefits framework, models and vendors
Senior Risk Management Information Analyst

Do you enjoy working with data, have an analytical mindset and are interested in collaborating in an international team towards excellence in risk reporting using IFRS9 (loan losses)? Then this job is a must see!

The Risk Management Information Analyst is a role in the Enterprise Risk Management department. You will be working in a vital area of Santander's risk strategy where your daily job will involve collaboration across the different departments inside Risk as well as with other functions outside Risk, such as Finance, Collections, IT and HQ.

You will be part of a friendly, collaborative and supportive team where your area of responsibility will include extracting and working with data, analysing, and reporting: month close, consolidation, budgeting and forecasting across the Nordic countries.

Data will be a key part of your work as it is an essential part of all risk processes to identify, measure and mitigate risks inherent to our core business activities.

Main activities

Ownership and delivery of Nordic risk reporting, analytics and consolidation: period closing, forecasting and budgeting processes (monthly, annually, ad-hoc)
Data analytics and use of BI tools for reporting automation
Preparation and performance of periodical and ad-hoc variance- and performance analysis for reporting to relevant stakeholders, including management, HQ and auditors
Developing common, documented, best practice ways of working for closing and forecasting processes
Seeking, analysing, and solving delivery and sourcing challenges in a common way and working with teams to build on the future common data infrastructure
Working together with Risk and Business Units regarding IFRS9 loan losses and ad hoc projects
Value Stream Manager

Are you passionate about creating new improved agile processes? Do you believe in team efforts and get motivated by the best of breed technology? If yes, you could be our new Value Stream Manager.

Your responsibilities:

Foster cross-value stream coordination and collaboration to help drive continual improvement.
Drive multiple release planning sessions
Resolve impediments outside of a scrum master's span of influence
Escalate impediments and help manage risk.
Engage with business stakeholders to configure agile processes to the organization's needs.
Provide leadership, direction and coaching to scrum teams and scrum masters
Foster an environment that anticipates and acts upon potential threats or opportunities
Maintain metrics that provide visibility to stakeholders on program-level plans, progress and quality
Assess the costs and potential benefits of new approaches to release management
Align strategy, methodology and execution
Ensure agreed quality standards, and that best practices are promulgated throughout the organization
Help develop and maintain a strong culture of continuous improvement, innovation and teamwork within the team.

Who are we looking for:

This role is a good match for you if you you are passionate about Agile Scrum methodologies, enjoy working in a collaborative team environment, and are dedicated to delivering high-quality products.

Your experience and qualifications:

Trade certification preferred (e.g., scaled agile program consultant, scrum master)
Experience with Kanban/software development life -cycle
Deep and broad knowledge of fundamental IT technical skill sets
Minimum five years' overall IT experience
Minimum two years' experience as a scrum master, product owner or agile coach
Bachelor's Degree in computer science or related field
Design practices, processes, procedures and systems to manage work simply
Convey complex and technical issues to diverse audiences
Combine and organizes information into meaningful patterns, and combines pieces of information to form conclusions or general rules
Convey complex and technical issues to diverse audiences
Best practice and continuous improvement mindset
Thrive with coaching others
Ability to create trust across functions and teams

What we offer:

An opportunity to work in a large, high-performing international company, in a dynamic environment that is constantly changing
A corporate culture that is professional and dynamic, yet informal. Bureaucracy is kept to a minimum, as we expect our skilled employees to make long lasting and impactful decisions to shape our future.
Highly competent, dedicated, and friendly co-workers with strong collaboration across the Nordics

Interested?

If you have the right profile and enthusiasm, please submit your application and CV as soon as possible, but no later than 08.10.2023. If you have any questions, feel free to contact Claus Mönniche, email: claus.monniche@santanderconsumer.dk
Governance specialist

A Governance, Reporting, and Controls (Governance) Specialist has a critical role in helping Santander Consumer Bank to fulfil its legal and regulatory obligations when it comes to Anti-Money Laundering (AML) activities. Santander recognizes its responsibility to ensure that Bank activities are compliant with the law at any given time, in order to protect its shareholders, customers, partners, employees, and reputation.

One of the major responsibilities of a Governance Specialist will be defining, establishing and enforcing governance, methodology, procedures & frameworks across AML Office.

A Governance Specialist in cooperation with the rest of the teams in AML Office, Due Diligence and Compliance will define, develop and continuously improve quality assurance procedures and controls. This is crucial to ensure constant development of AML & Fraud functions within the Bank and be in line with rapidly changing regulatory environment.

Additionally, Governance specialists will provide active advisory support for the rest of the Bank – projects, establishment of new products and changes to existing products.

Main responsibilities:

Methodology, Procedures & Framework

Define and implement procedures and frameworks for AML Office

Establish key KPIs for AML Office to be able to follow improvement of AML & Fraud functions

Keep track of regulatory changes and continuously review business practices to ensure it is in line with the changes

Perform ongoing maintenance of AML policies and procedures to secure alignment with the HQ requirements

Quality Assurance & Controls

Cooperate with Internal Audit, Compliance to implement controls that adhere to international and local banking regulations across the organization and perform tests to ensure that they are set up correctly

Perform random sampling on all CDD, Transaction Monitoring, and On-Boarding functions to ensure SCB is completing these tasks according to regulatory standards and internal policies

Reporting & Risk assessments

Develop common reporting templates for local, Nordic, HQ and where possible external entities.

Serve as the main point of contact to internal and external parties when it comes to reporting and risk assessments.

Operational Risk, advisory and stakeholder management

Serve as Operational risk responsible for AML Office and participate in ORC network within the Bank.

Actively participate and advice on AML & Fraud related matters in projects, initiatives and new product development in the Bank.
Nordic Process Specialist, Collection

The Nordic Process Specialist, Collection has overall responsibility of understanding Collections internal processes and systems used throughout the Nordics, consequently acting as a subject matter expert on those areas. The Nordic Collection Process Specialist within Country Execution represents a key role in different development initiatives in the bank, providing those with relevant insights and expertise about functionalities and dependencies of core banking systems in connection with processes related to Collections.

The Nordic Collection Process Specialist is primary responsible for defining the development needs and formulating those into technical/system specific demands, as well as managing Change Requests initiated by Collections linked to the system changes in core banking systems at Nordic level.

The Collection Process Specialist is also responsible for testing activities performed in core banking systems and Collections tools integrated with core banking systems for all Nordic countries, specifically in relation to new product launches and core banking system upgrades.

The Collection Process Specialist manages his/her work independently and provides co-training and support to whole Collection function, Core Banking teams, Operations, Finance and Risk departments and other stakeholders.

Main responsibilities

Lead/support Country Execution forums
Create and coordinate Change Requests needed in core banking systems
Responsible for implementation of the Collection development initiatives
IT, Operations and Data Management coordination
Driving and supporting Country Execution/Collection when implementing new tools and platforms
Create digital and innovation initiatives within Country Execution
Collaboration with stakeholders
Overall monitoring and follow up of the tasks being involved in
Define and maintain an efficient and compliant process for testing and test data
All other activities performed in Collections according to local practice and instructions set by Head of Country Execution

Developments and core banking systems

Core banking systems developments linked to Collection
Collections systems & tools for Country Execution
IT developments coordination (channels, campaigns, data)
Design of tests and controls
Work closely with Country Execution teams to develop and understand their needs, processes and system functionality
Avoin hakemus

Voit jättää meille avoimen hakemuksen. Olemme sinuun yhteydessä, mikäli meillä aukeaa osaamistasi vastaava tehtävä.
Olemme kuin perheyritys. Meillä on ketterä organisaatio, jossa päätöksiä tehdään ripeästi ja eletään tilanteen mukaan. Matala hierarkia varmistaa sen, että jokaisella on mahdollisuus saada äänensä kuuluviin ja apua tarvittaessa. Joustavassa organisaatiossamme tehtävät ovat monipuolisia, ja sisäinen liikkuvuus on vilkasta.

Uudelle työntekijälle nimetään aina perehdyttäjä, joka auttaa häntä pääsemään nopeasti sisään Santanderin maailmaan. Järjestämme työntekijöille mahdollisuuksia tutustua myös toisten osastojen tehtäviin. Panostamme jatkuvasti esimiestyön kehittämiseen. Vaikka tavoitteet ovat kovat, toimistossamme nauru raikaa ja ilmapiiri on kannustava. Lue lisää meistä.

Tervetuloa iloiseen joukkoomme!
​Lähetettyäsi meille hakemuksen, saat sähköpostiisi vahvistusviestin hakemuksen perille saapumisesta. Tarkistathan siis hakulomaketta täyttäessäsi, että sähköpostiosoitteesi on oikein. Olemme kaikkiin hakijoihin yhteydessä rekrytointiprosessin edetessä joko puhelimitse tai sähköpostitse.

Tehtävään sopivimmat hakijat kutsutaan haastatteluun yleensä kahden viikon sisällä hakuajan päättymisestä. Haastattelu kestää noin tunnin ja tehtävästä riippuen haastattelukierroksia voi olla useita. Haastattelun tarkoituksena on selvittää puolin ja toisin, kuinka osaaminen, kokemus ja toiveet kohtaavat. Yritykseemme voit tutustua kotisivuillamme. Vastaamme myös mielellämme haastattelun aikana kysymyksiisi niin yrityksestä kuin työtehtävistäkin.

Pyydämme hakijoilta haastattelussa suosittelijoiden tiedot ja luvan olla yhteydessä heihin. Toisinaan apuna käytetään myös soveltuvuusarviointia, joiden tekemisessä käytämme Helsingissä sijaitsevaa psykologitoimistoa. Haastattelussa sinulle kerrotaan tarkemmin rekrytointiprosessin etenemisestä.

Henkilötietolain (523/99) 10§ mukainen rekisteriseloste Santander Consumer Finance Oy:n työnhakijarekisterille ›