Töihin Santanderille
Mitä jos tulisit töihin meille?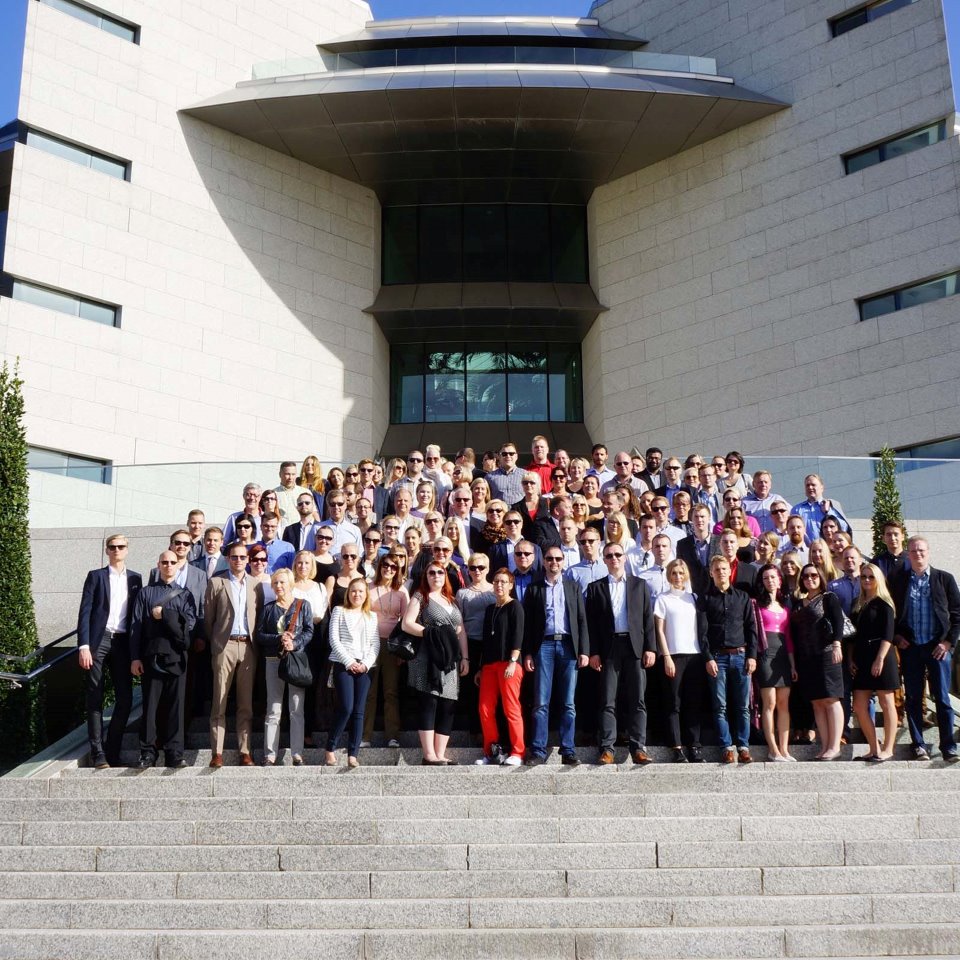 Risk Management Information Analyst

Do you enjoy working with data, have an analytical mindset and are you interested in collaborating in an international team towards excellence in risk reporting using IFRS9 (loan losses)?

Then this job is a must see!

The Risk Management Information analyst is a role in the Enterprise Risk Management department. You will be working in a vital area of Santander´s risk strategy where your daily job will involve collaboration across the different departments inside Risk as well as with other functions outside Risk, such as Finance, Collections, IT and HQ (among others).

You will be part of a friendly, collaborative and supportive team where your area of responsibility will include extracting and working with data, IFRS9, and reporting: month close, consolidation, budgeting and forecasting across the Nordic countries.

Data will be a key part of your work as it is an essential part of all risk processes to identify, measure and mitigate risks inherent to our core business activities

Main activities

Ownership and delivery of Nordic risk reporting, analytics and consolidation: period closing, forecasting and budgeting processes (monthly, quarterly, annually).
Data analytics and use of BI tools for reporting automation.
Applying IFRS9 regulation to implement internal policies, financial reporting needs and memos to support accounting IFRS9 decisions related to loan losses.
Preparation and performance of ad hoc analysis for reporting to relevant stakeholders, including management, HQ and auditors.
Developing common, documented, best practice ways of working for closing and forecasting processes
Solving delivery and sourcing challenges in a common way and working with teams to build on the future common data infrastructure
Working together with Risk and Business Units regarding IFRS9 regarding loan losses and in ad hoc projects.
Delivery on internal control methodology (including SOX), and upkeep of our risk data quality environment and compliance with BCBS 239.
Medarbetare till kundservice

Har du ett starkt intresse för kundrelationer och trivs med kundkontakt? Vill du arbeta i ett team som har gemensamma målsättningar och där vi möter framgångar och motgångar tillsammans?

I rollen som kundservicemedarbetare arbetar du med inkommande samtal och mejl från bankens både befintliga och potentiella kunder. Din arbetsuppgift är att hitta rätt lösning till kunden och du administrerar sedan ärendena i affärssystemet. Du ingår i ett team med en närvarande teamledare som motiverar dig och ger dig stöd i arbetet. Du erbjuds goda utvecklingsmöjligheter.

Arbetsuppgifter

Som kundservicemedarbetare kommer du;

· Via telefon ta emot samtal från både nya och befintliga kunder för frågor kring våra lån och krediter

· Vid inkommande samtal erbjuda både nya och befintliga kunder tilläggstjänster och informera om hela bankens produktportfölj

För att trivas i rollen är du försäljnings- och resultatinriktad och du tycker om att supportera och hjälpa andra i ditt arbete. Du är självgående och har lätt för att driva ditt arbete framåt och gör det med hög kvalité. Då rollen innebär uteslutande både intern och extern kontakt är du social och har god kommunikativ förmåga. För att lyckas i rollen är du målinriktad och motiveras av att prestera högt.
Back Office & Disbursement Associate

Santanderin Back Office & Disbursement tiimissä on avoinna määräaikainen

Back Office & Disbursement Associate - tehtävä

Tiimissä rahoitetaan osamaksu-, ostorahoitus- ja lainasopimukset. Käsittelemme autojen omistusoikeuksien luovutukset sopimuksien päättyessä sekä hoidamme muita backoffice tehtäviä.

Oletko tehokas ja tavoitteisiin sitoutunut tekijä? Toimitko johdonmukaisesti ja oletko rohkea tekemään itsenäisiä päätöksiä? Siedätkö kiirettä ja työjonoja? Hahmotatko helposti laajoja kokonaisuuksia? Jos vastasit kyllä, voit olla hakemamme henkilö.

Tehtävässä onnistuminen edellyttää myös, että sopeudut nopeasti muuttuviin tilanteisiin etkä pelkää rutiineja. Meillä pääset kehittämään osaamistasi ja haastamaan itseäsi monipuolisissa tehtävissä. Saat ammattitaitoisen tiimin tuen ja näköalapaikan rahoitusalan markkinaan.

Haemme henkilöä, joka täyttää vuorotteluvapaan sijaisen edellytykset. Työsuhde on määräaikainen 3.5.2022 asti. Työaika on 37 h/vko. Palkkaus on Rahoitusalan työehtosopimuksen mukainen. Työt alkavat sopimuksen mukaan.

Hakuaika päättyy 27.10.2022. Toimi nopeasti sillä hakemuksia käsitellään jo hakuaikana ja etenemme sopivien kandidaattien kanssa.

Lisätietoja tehtävästä antaa 21.10 ja 22.10. klo 14-16 Tea Lindström numerossa 050 3015 600

Huomioithan, että vuorotteluvapaan sijaiseksi voidaan palkata vain henkilö, joka on:

ollut työttömänä työnhakijana TE-toimistossa vähintään 90 kalenteripäivää sijaisuutta edeltäneiden 14 kuukauden aikana tai
alle 30-vuotias, jonka ammatti- tai korkeakoulututkinnosta on kulunut alle vuosi tai
vuorotteluvapaasijaisuuden alkaessa alle 25-vuotias tai yli 55-vuotias.
Senior Retail Risk Analytiker, Auto

Vil du analysere kredittrisikoen for bilporteføljen i Santander?

Santander Consumer Bank er en del av Europas største finanskonsern. Vi tilbyr en posisjon i et spennende og utfordrende miljø med kunnskapsrike kolleger. Dette er en jobb som gir gode muligheter for profesjonell og personlig utvikling i et dynamisk selskap.

Jobben

Vi setter søkelys på kredittrisikostyring av Santanders bilportefølje, inkludert utvikling og finjustering av utlånsprosessene. Som en IRB-bank må alt vi gjør være i samsvar med regulatoriske parametere (PD, LGD, EAD), kapitalpåvirkning (RWA) og lønnsomhet (RORWA).

Som en Senior Retail Risk Analytiker må du ha god forståelse for det Norske bilmarkedet, reguleringer innad i markedet og erfaring med kredittrisikostyring.

Du vil være ansvarlig for å administrere og analysere de underliggende porteføljene og sikre at kredittrisikostrategiene er i tråd med den forhåndsbestemte risikoappetitten og sunne kredittprosesser. Arbeidsoppgaver inkluderer kontinuerlig optimalisering av kredittbeslutningsprosessene gjennom dataanalyse og datautvinning. Vi bruker statistiske programmer fra SAS Institute, noe som gjør erfaring i deres eller lignende programmer en nødvendighet.

Du må være drevet av nysgjerrighet for nåværende trender og deres underliggende datagrunnlag, samt ha evnen til å kommunisere disse. Det er også viktig at du kan danne idéer rundt funnene dine som kan optimalisere vår kredittprosess.

Teamet består av mennesker fra hele Norden, så Engelsk er det foretrukne språket på arbeidsplassen. Avdelingen er bygget på samarbeid på tvers av landene, så selv om din kollega ikke er fysisk i nærheten, er hjelpen bare en telefonsamtale unna. Derfor kan du forvente å bli inkludert i prosjekter med samlede Nordiske mål, ikke bare Norske.

Siden flere av dine arbeidsoppgaver krever at du jobber sammen med andre avdelinger innad i banken, er det nødvendig med utmerket kommunikasjon og personlige ferdigheter der en proaktiv holdning er en fordel.

Vi tilbyr en jobb med mye variasjon hvor samarbeid er nøkkelen til suksess. Arbeidsoppgavene varierer mye, og du må være forberedt på en «ikke-planlagt» dag.
Senior HR Business Partner

Vill du vara med och bygga framtidens bank tillsammans med HR på Santander!?

På Santander lever vi vårt varumärke genom att ha en kultur som genomsyras av våra värdeord – Simple, Personal och Fair. De är nyckeln till hur vi blir det självklara valet för våra kunder och den bästa arbetsplatsen för våra anställda. Vår kultur präglas av starkt engagemang och hög energi. Våra medarbetare har olika bakgrund, livsstil och kompetenser. Men de har alla ett par saker gemensamt: vi vill göra skillnad och vi bryr oss om varandra och våra kunder. Det råder en entreprenöranda hos oss och ingen idé är för liten för att lyftas fram. Vi utvecklas i takt med våra egna och omvärldens förändringar och väljer aktivt förändring.

Din roll
I rollen som Senior HR Business Partner ingår du i ett engagerat och passionerat nordiskt HR-team bestående av 23 personer. Din viktigaste uppgift blir att stötta en av organisationens funktioner i att nå sina affärs- och verksamhetsmål och du coachar och vägleder chefer i alla HR-processer. Vi kommer att ha stort fokus på det goda ledarskapet och du kommer vara involverad i det arbetet.

HRBP-teamet arbetar mycket nära kärnverksamheten och du har ett aktivt samarbete med chefer och övriga HR-kollegor i Norden. HR-organisationen har förutom HRBP-teamet även ett team med HR Operations specialister i varje land.

Primära ansvarsområden:

Arbeta brett inom hela HR-området med både strategiska, taktiska och operativa frågor.
Ansvara som Business Partner för en av bankens funktioner.
Arbeta konsultativt i nära samarbete med ledare i frågor som t.ex. arbetsrätt, lönesättning och -revision, strategisk personalplanering och arbetsmiljö.
Tillsammans med övriga i HR-teamet hantera och driva MBL-förhandlingar och annan samverkan med de fackliga organisationerna.
Löpande driva förbättringsinitiativ och förändringsarbete ur ett HR-perspektiv, såväl tvärs över länderna som över funktionerna.
Resor till de nordiska länderna kan förekomma i mindre omfattning.
Du kommer arbeta nära ledningsgruppen i den funktion du ansvarar för, och även med HR Operations-teamet. Du rapporterar till Head of HRBP.
Insurance Director

As Insurance Director you are responsible for leading the development and execution of a Nordic Insurance strategy, in order to optimise sales and income, whilst satisfying the needs of customers and partners. Responsibilities cover both product development as well as distribution activities.

As a member of the Commercial leadership team you will ensure an effective and collaborative communication between stakeholders both internally and externally, and continuously manage and seek for improvements regarding processes, products, sales, tools and development of competencies.

You lead a team of product and customer experience specialists, insurance sales leaders and analysts. The team is in charge of ensuring optimization and implementation of processes and products, sales and distribution of insurance products, and to define, implement and follow up internal and external policies, compliance and legal requirements in all processes related to insurance. Commercialization of development projects including internal approval, drive simplification and alignment of products, processes and systems.

You are closely aligned with Commercial and Operations teams and is the main contact to HQ Insurance team and pan Nordic Partners.

Your tasks will include, but not be limited to the following:

Insurance Strategy

Define and communicate vision for the Insurance portfolio to all stakeholders within the company
Oversee the Insurance product roadmap definition and decide on investment allocation to improvement and new development
Establish, execute and monitor the strategic direction of the assigned product portfolio based on customer and partner needs and in line with overall bank strategy
Prioritize the product portfolio according to market demand and profitability
Keep up to date with current market conditions (strategy, products, network)
Budget allocation assigned to Insurance and implementation of each product in the portfolio

Sales optimization

Develop sales of insurance products across all distribution channels (point of sale, telemarketing and digital).
Implement processes to identify and improve point of sale location and telemarketing agent performances.
Develop and implement tools to support strong processes (e.g. scripts, trainings, remuneration packages, campaigns).
Agree insurance opportunities and sales objectives with sales networks.
Utilise data driven processes with sales networks to continuously monitor performance and identify opportunities/corrective actions.
Manage a portfolio of clients, achieving targets for new business and renewals/retention of current clients.
Work with all commercial functions to secure solid collaboration and teamwork
Operate with a proactive and customer centric mindset.

Product and business development

Manage product and product portfolio profitability (Profit and Loss accountability)
Manage and monitor product portfolio specific KPIs
Approval of pricing for insurance products & deals
Drive product simplification and standardization of product portfolio on bank level
Accountable for ensuring that the product portfolio meets legal and regulatory compliance, as well as external requirements
Lead Cross functional teams for product optimization and development to secure profitable transition from new customer (early lifecycle) to repeat customers
Guide and advise local markets in adaption of products to local needs
Own and prioritize product Backlog for insurance products
Support the product team on new product innovations and improving existing products

Be an ambassador for Santander values and behaviours, including our leadership commitments:

Be open and inclusive to promote diversity
Encourage your team to prosper, by supporting the team to develop and make impact
Inspire and execute transformation, by having a clear strategic vision and delivering sustainable outcomes
Lead by example, by always being Simple, Personal, and Fair

Personal Characteristics

Strong commercial skills with a proven track record.
Results and growth oriented
Highly collaborative and service oriented mindset
Innovative mindset – ability to change, keep and strengthen our competiveness
Ability to quickly and proactively adapt and respond to changing environment
Has ability to influence and connect with cross functional teams
Strategic mindset
Responsible with a high ethical standards, hardworking with strong drive
Is energizing and passionate, possess strong sense of commitment
Is proactive with ability to work independently and at the same time a true team player

Competencies and Skills

Business opportunity focused
Competencies on drivers for sales and customer satisfaction
Project manager ability
Structured and systematic skills
Like to create processes and routines
Critical and creative thinking
Presentation skills
Excellent written, verbal and presentation skills in English
Insurance product and regulation knowledge

Preferred Experience

You have extensive experience from the banking and/or insurance industry. You have worked as leader and preferably cross country.

It will be considered as a plus is you have experience in insurance sales and solutions for the customer needs in the automotive finance market.

We offer

An opportunity to work in a large, high-performing international company, in a dynamic environment that is constantly changing
A corporate culture that is professional and dynamic, yet informal. Bureaucracy is kept to a minimum, as we expect our skilled employees to make long lasting and impactful decisions to shape our future
Highly competent, dedicated, and friendly co-workers with strong collaboration across the Nordics

This position can be located in any of our Nordic locations in Helsinki, Hvidovre, Solna or Lysaker.

Interested?

If you have the right profile and enthusiasm, please submit your application and CV as soon as possible. Applications are considered on an ongoing basis and the add will be closed when we have the right candidate.

If any questions feel free to contact Chief Commercial Officer, Steve Franklin
Sales Consultant Auto

Har du interesse for kreditvurdering og kendskab til finansiering af bil, camping eller motorcykel?

... så har du nu mulighed for at prøve kræfter med dit nye drømmejob, når du tager plads hos Europas største bank. Bliv en del af et team fuld af energi, grin og samarbejde. Barselsvikariat til og med 30. juni 2022. **

---

**

Din hverdag i Origination Auto

Når du møder ind på din første dag i Origination Auto, får du en varm velkomst af dine 10 kolleger, som har glædet sig til at få dig med på holdet. Sammen har vi ansvaret for at lave kreditvurderinger, når der skal lånes eller leases køretøjer – både til private og erhverv. Og så er der altid en munter tone i luften.

"Der er masser af liv og super god stemning på kontoret. Her elsker vi nemlig at tale med folk, og så er vi også lidt nørdede omkring biler," fortæller Søren Neltoft, Teamleder - Origination Auto.

Lav kreditvurderingerne og tag snakken med forhandlerne

Som Sales Consultant Auto får du ansvaret for lave vurderingerne, når kunder og virksomheder ønsker at finansiere en bil, motorcykel eller campingvogn hos en af de forhandlere, vi arbejder sammen med. Det betyder også, at du får masser af kontakt med bilforhandlere og deres kunder – både på telefon og mail:

Foretage kreditvurderinger

Tage imod henvendelser fra forhandlere og deres kunder på ansøgninger

Sikre, at særaftaler bliver håndteret korrekt

"Vi har rigtig mange forskellige løsninger. Så du har mange muligheder, når du hjælper kunderne med at finansiere deres bil, motorcykel eller campingvogn. Og er du i tvivl om en vurdering, så har du altid en kollega, du kan spørge til råds," fortsætter Søren.

Et friskt miljø med masser af fordele

"Der er en fed stemning og en virkelig god energi i vores team. Dine kolleger løfter i flok, og vi elsker at fejre succeserne, når vi sammen når resultaterne. Det kan være lidt ekstra forkælelse på en god dag eller en af vores mange årlige fester. Det samme gælder dit forhold til vores kunder, som du har mulighed for at møde ved ekstraordinære arrangementer – f.eks. til koncert, gokart eller lignende arrangementer," slutter Søren.

Økonomisk uddannelse eller forhandlererfaring

Der er flere måder, du kan blive vores nye kollega på. Det kan f.eks. være, at du:

Kommer med en uddannelse i økonomi med en passion for biler

Eller har arbejdet med forhandling af biler og kan finde hoved og hale i både privatøkonomi og en virksomheds årsopgørelse

Har kompetencer fra andre afdelinger i Santander og erfaring med vores systemer og processer.

Derudover er det vigtigt, at du er en udadvendt person, som elsker at tale med mange forskellige mennesker igennem din dag. Samtidig er du med på den digitale bølge og mister ikke overblikket, når du sidder foran 2 skærme og skifter rundt imellem en masse faner.

Interesseret?

Har du spørgsmål til jobbet, kan du kontakte teamleder i Origination Auto, Søren Neltoft, på telefon +45 5373 2028.

Du søger jobbet ved at sende din ansøgning og dit CV allerede i dag, og vi behandler ansøgninger løbende. Tiltrædelse er snarest muligt.

Vi glæder os til at høre fra dig.
Dealer Support Consultant, temporary position

Vi søker Dealer Support Consultant till var Origination Auto avdeling. Du vil jobbe i et ungt og dynamisk miljø der hovedoppgavene vil være å håndtere henvendelser fra samarbeidende forhandlere, biladministrasjon samt bidra til å styrke Santanders posisjon som nummer 1 på finansiering av bil og fritidsprodukter.

Ansvarsområder:

Utstrakt kommunikasjon med samarbeidende forhandlere

Bidra til økt salg av forhandlers produkter/service ved å være løsningsorientert og ha rett kompetanse

Forstå kundens behov og sørge for at Santander Consumer Bank AS leverer iht avtale og forventning

Bidra med merverdi i kundeforholdet ved å opptre som rådgiver, videreformidle opplæringsbehov til KAM

Være tilgjengelig ved behov, alltid opptre profesjonelt og med integritet

Arbeide proaktivt mot selskapets og avdelingens mål og KPI'er, samt videreutvikle egen kompetanse

Utstrakt kommunikasjon med våre samarbeidende forhandlere og kunder og være deres kontaktsenter for alle henvendelser vedrørende løpende kontrakter

Behandle kundehenvendelser, via telefon/e-post fra forhandler, nærings- og leasingkunder effektivt, iht selskapets gjeldende instruks

Håndtere endringer på kontrakter og produsere nødvendige dokumenter
Olemme kuin perheyritys. Meillä on ketterä organisaatio, jossa päätöksiä tehdään ripeästi ja eletään tilanteen mukaan. Matala hierarkia varmistaa sen, että jokaisella on mahdollisuus saada äänensä kuuluviin ja apua tarvittaessa. Joustavassa organisaatiossamme tehtävät ovat monipuolisia, ja sisäinen liikkuvuus on vilkasta.

Uudelle työntekijälle nimetään aina perehdyttäjä, joka auttaa häntä pääsemään nopeasti sisään Santanderin maailmaan. Järjestämme työntekijöille mahdollisuuksia tutustua myös toisten osastojen tehtäviin. Panostamme jatkuvasti esimiestyön kehittämiseen. Vaikka tavoitteet ovat kovat, toimistossamme nauru raikaa ja ilmapiiri on kannustava. Lue lisää meistä.

Tervetuloa iloiseen joukkoomme!
​Lähetettyäsi meille hakemuksen, saat sähköpostiisi vahvistusviestin hakemuksen perille saapumisesta. Tarkistathan siis hakulomaketta täyttäessäsi, että sähköpostiosoitteesi on oikein. Olemme kaikkiin hakijoihin yhteydessä rekrytointiprosessin edetessä joko puhelimitse tai sähköpostitse.

Tehtävään sopivimmat hakijat kutsutaan haastatteluun yleensä kahden viikon sisällä hakuajan päättymisestä. Haastattelu kestää noin tunnin ja tehtävästä riippuen haastattelukierroksia voi olla useita. Haastattelun tarkoituksena on selvittää puolin ja toisin, kuinka osaaminen, kokemus ja toiveet kohtaavat. Yritykseemme voit tutustua kotisivuillamme. Vastaamme myös mielellämme haastattelun aikana kysymyksiisi niin yrityksestä kuin työtehtävistäkin.

Pyydämme hakijoilta haastattelussa suosittelijoiden tiedot ja luvan olla yhteydessä heihin. Toisinaan apuna käytetään myös soveltuvuusarviointia, joiden tekemisessä käytämme Helsingissä sijaitsevaa psykologitoimistoa. Haastattelussa sinulle kerrotaan tarkemmin rekrytointiprosessin etenemisestä.

Henkilötietolain (523/99) 10§ mukainen rekisteriseloste Santander Consumer Finance Oy:n työnhakijarekisterille ›